Experience a 360 Degree Virtual Tour of Worcester Cathedral
There is no admission charge to visit the Cathedral, but donations are welcomed and very much appreciated. Our suggested donation is £6 per person.  
Visitor access to the Cathedral is via the main north porch, in College Yard (opposite the High Street).
There is currently no access via the south side of the Cathedral (off College Green) or through the west door.
Click on our video below for more details.
What's Here?
Worcester Cathedral is one of England's loveliest cathedrals. It stands majestically overlooking the River Severn, close to the city centre. It has been a place of prayer and worship for fourteen centuries.  The Cathedral's attractions include King John's tomb, Prince Arthur's Chantry, St Wulfstan's Norman Crypt, medieval cloisters, magnificent Victorian stained glass and examples of every period of early English architecture from 11th to late 14th Century.

Cathedral Map
Download a map of the building and the key points of interest. 
Visiting on Pilgrimage
Worcester Cathedral has been working with the British Pilgrimage Trust to make available a selection of pilgrim routes that can each be walked in a day to the Cathedral. Click on the link below to find 3 routes within Worcestershire.
British Pilgrimage Trust routes
We look forward to seeing you and hope that you enjoy your visit.
Family Fun
If you are visiting the Cathedral as a family you can download and print these activities to do while you are going round.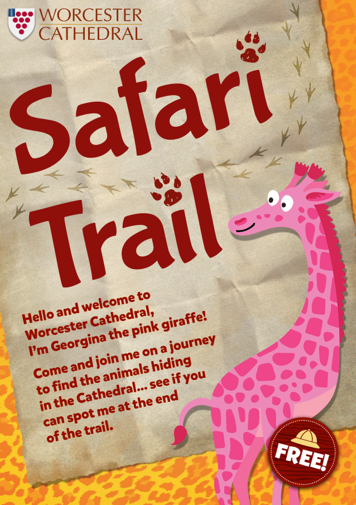 Find more activities to learn about the Cathedral at home on our family activities page. 
Comments
'The building is exceptional with lots to see and to engage the visitor. There are a number of significant historic tombs and the stained glass is exceptional. I found the glass work in the cloister particularly interesting'.

'The welcome warm and friendly without being over intrusive. The self-guided tour is very good and enhances the visit. There is a small gift shop and a lovely little cafe in the cloister'.
'Always something going on inside the cathedral. My young children love walking around seeing it all. They always ask to come back. It's lovely at Christmas with all the Christmas tree displays and sometimes I'm lucky to catch a local charity event'.
'What a wonderful cathedral, so beautiful and so lovingly kept. Particularly impressed by the knowledge and friendliness of the volunteers that work there. Clearly passionate about their cathedral and justly so! How refreshing that there was no charge to walk around this magnificent building.... well worth leaving a donation though'!